Zou je het verslag liever lezen in het Nederlands klik dan HIER.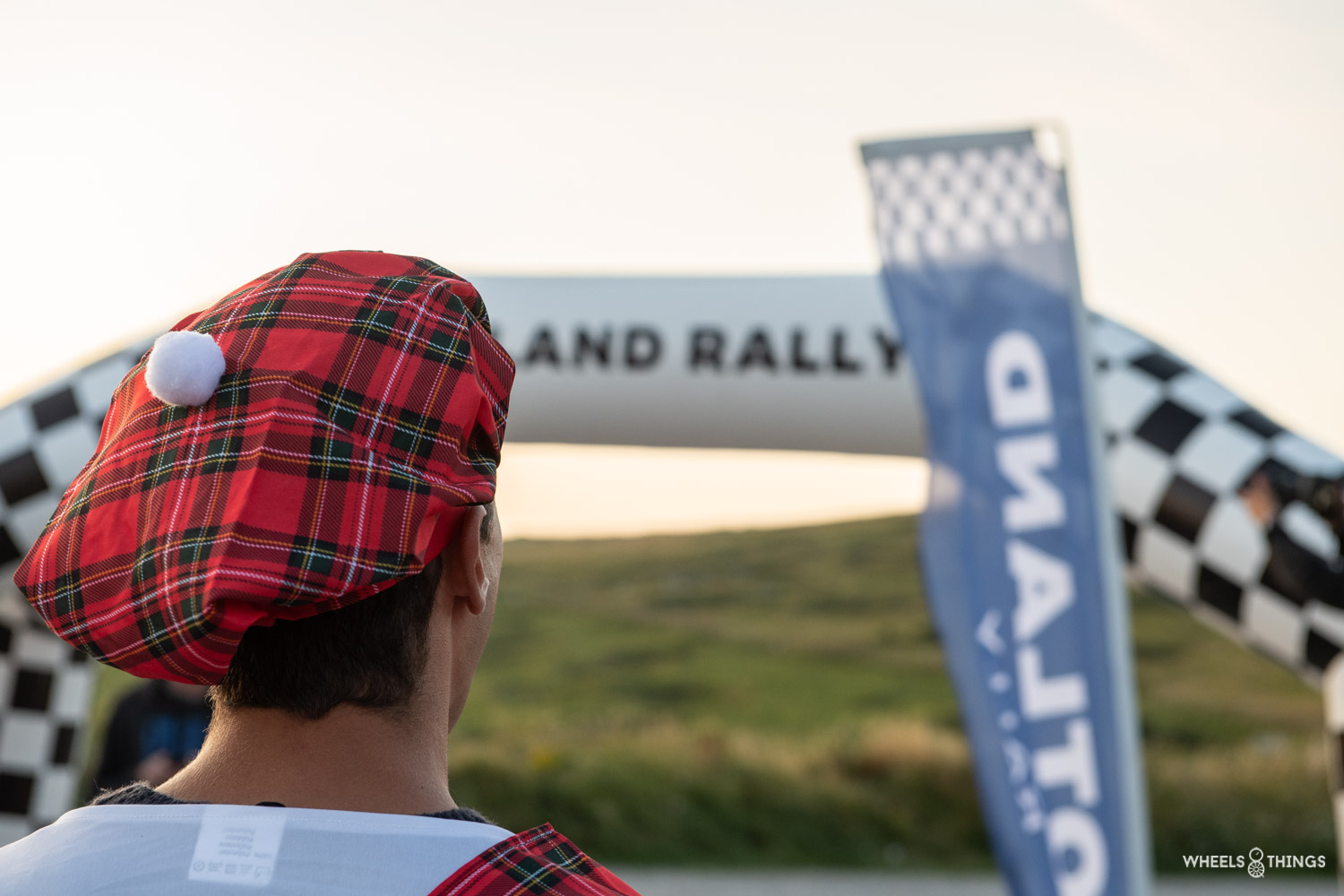 It all started with a Facebook post that caught my eye. The beautiful pictures made me curious and so I went to explore what I saw.
A roadtrip through England and Scotland, with as a destination: Isle of Skye, Scotland. On multiple pictures I saw classic cars and after reading a bit I came across the concept of earning points through daily challenges, as well as gaining extra points by entering with an classic car. I asked Loïc, my son, if he was up to the trip. A drive of approximately 1800 kilometers in 6 days, with some beautiful view points along the way and staying overnight at campsites, or in hotels if you like to book them yourselves.
After pitching the idea to my wife, we received green light to go on this adventure: a father-son roadtrip through the United Kingdom.
Okay, now we only have to book the trip and check out the different options. At that point we already came across our first dilemma: hotel or campsite? Neither of us had ever gone camping before, so sleeping in a hotel would have been the most logical choise. But after giving it some thought, I felt like we could miss out on a lot of nice atmosphere and group bonding if we chose the hotel option. After having some contact with Rani, one of the project managers, it was confirmed that most of the people were staying on the campsites. So not long after knowing that, we decided to go camping as well. A tent, sleeping bags and air mattresses were bought at A.S. Adventure, where we felt comfortable about our materials after some expert information.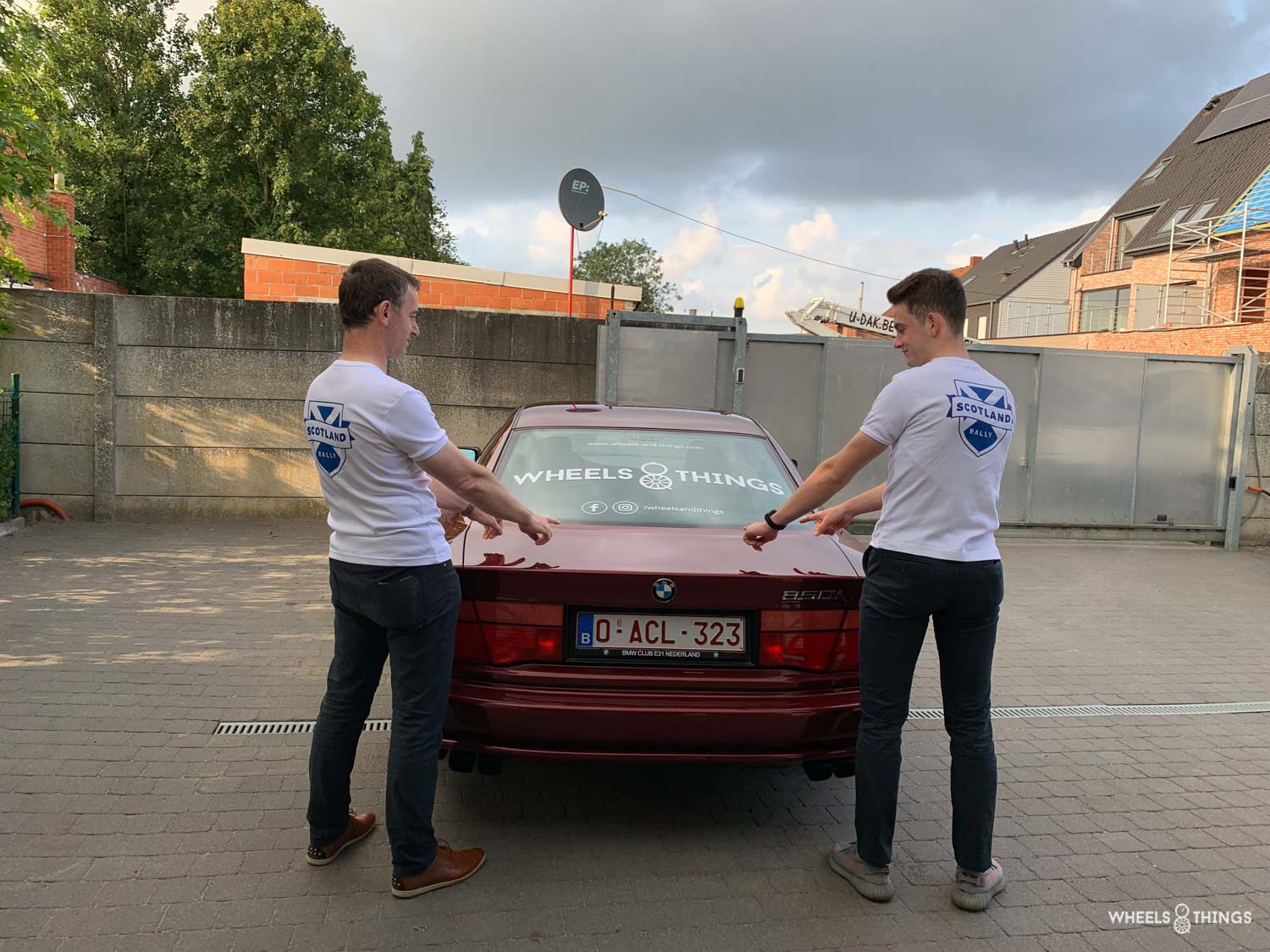 Now the adventure could really begin. We would enter the rally with a BMW 850i from 1991. Before departure, we checked our car completely and replaced or fixed some of the materials, because the 1800 kilometers that were mentioned beforehand didn't seem to add up. After some calculation of the different stages we were going to drive, I counted over 3000 kilometers. So you have to be able to trust your car, and all parts, to last the whole trip. Although with an classic car, you never know.
I am the kind of person that also enjoys the adventure that already starts before the actual departure of a trip, by going on some research adventure myself. With this trip it was a little different, because except for some stopping places along the way, we did not really know what to expect. Every morning we were going to receive our stage sheet, with a description of the drive of the day. So the surprises left some room for imagination. What we did know up front, was that on the last day we would drive on the NC500 (North-Coast 500) road. This road fits in the same series as a Route 66 or the Stelvio Pass. So, something to very much look forward to!
The 4th of August, 309km: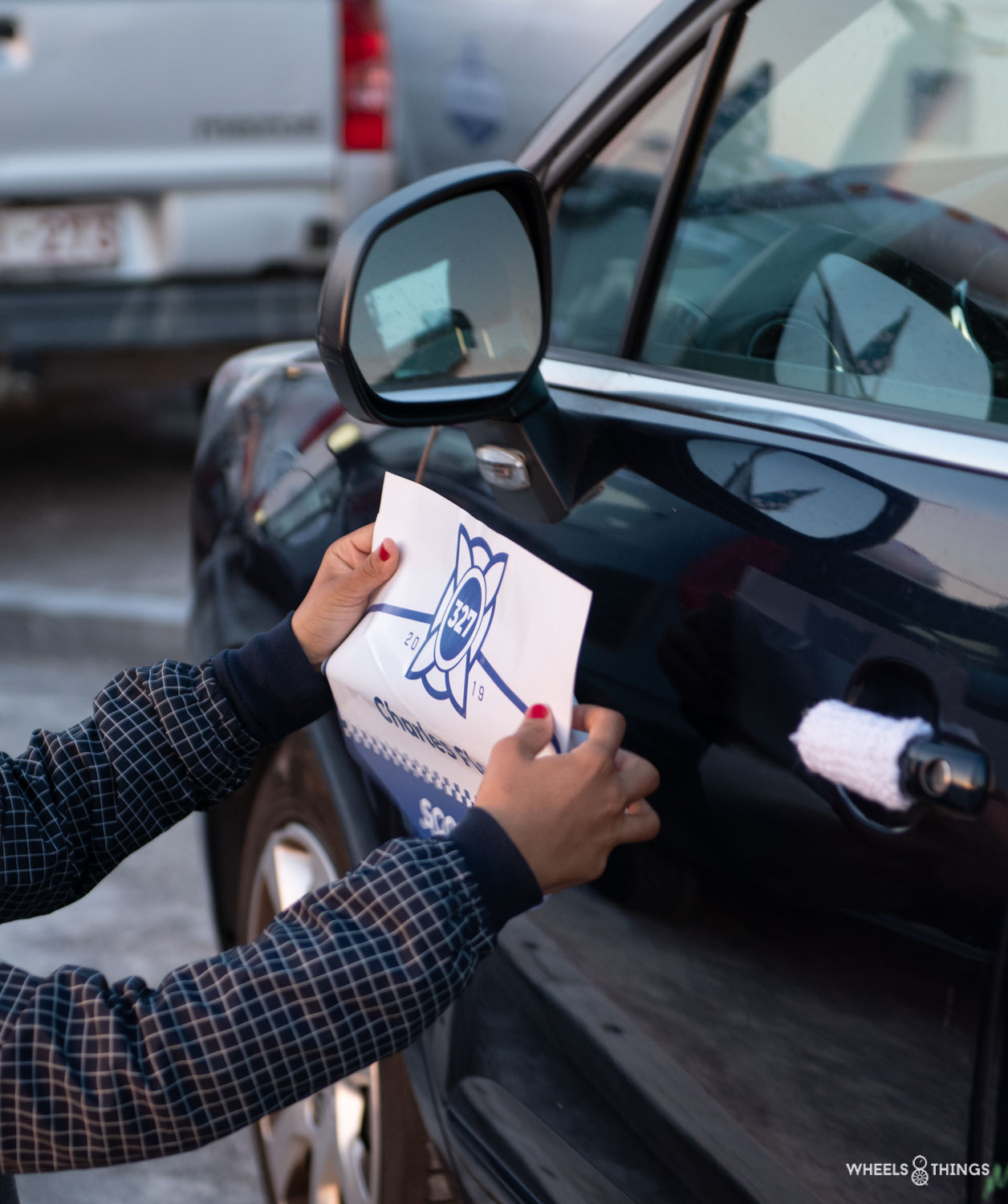 Waking up at 3h30 in the morning is still very early. But we were expected at 5h30 in the morning, near Calais on the parking lot called "Sentier de Blanc Nez". Here we would receive our first instructions, as well as our own team stickers and some  flags to put on the car.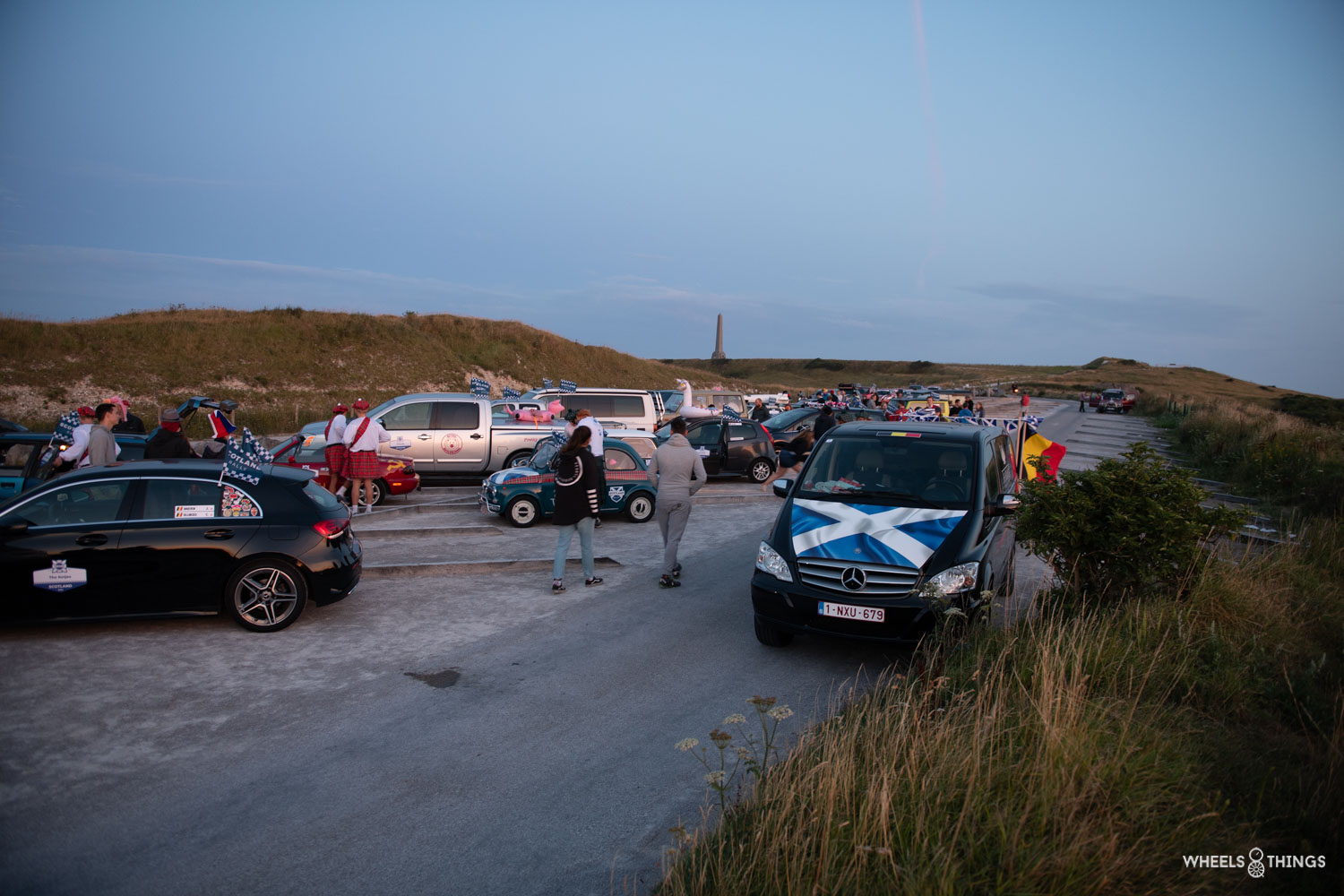 We had a very warm welcome as well as some curious looks of fellow participants, wondering "Is that a V12?". So it didn't take long before we were socializing with other participants. We were with a lot of Belgian, Dutch and French participants. One German couple, driving a VW Caravelle, made a fourth nationality join the party. Breakfast buns, fresh coffee and a breathtaking sunrise made it a perfect way to start the day.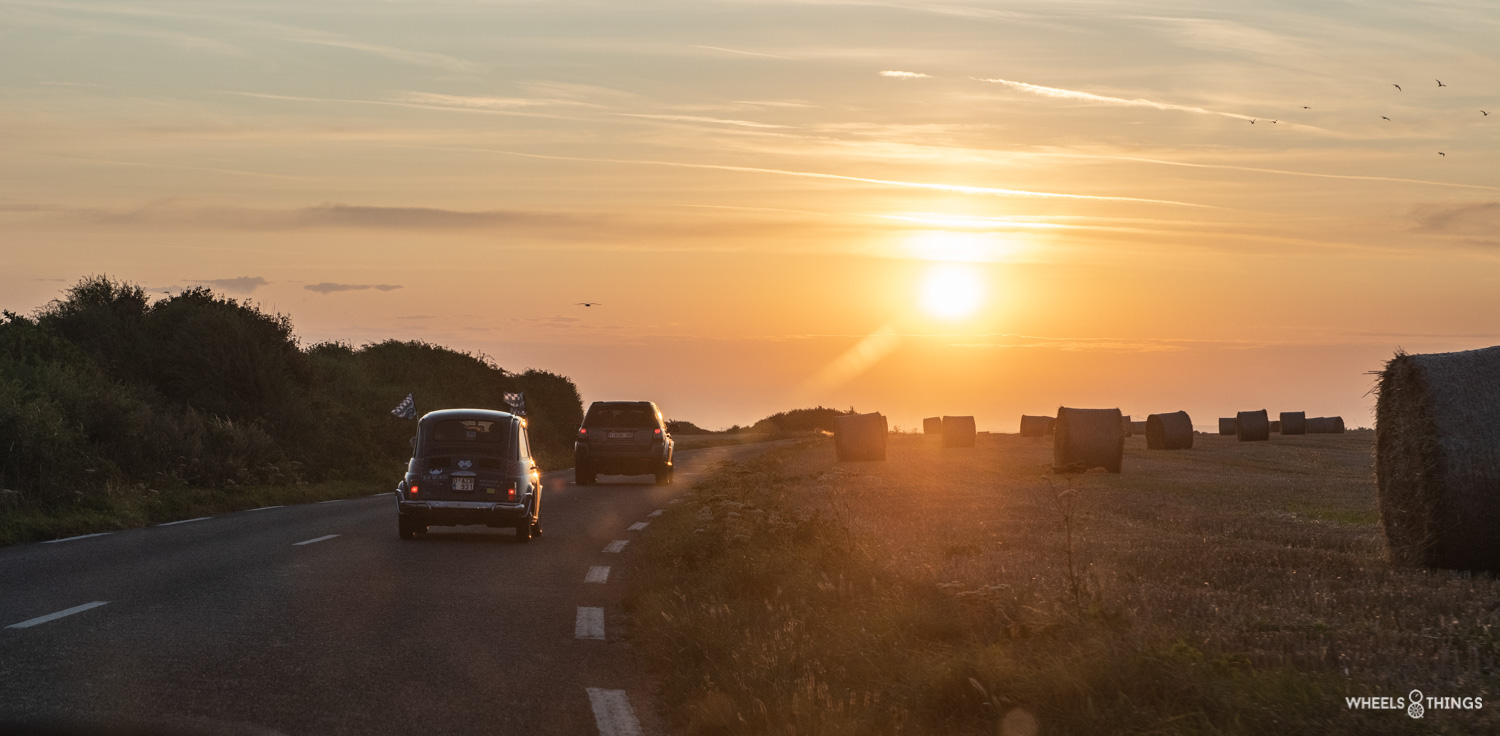 After the inspection of all the different cars, we drove (honking very loudly) as a group towards the ferry terminal. Even at this early time of day we were the real eyecatchers of the villages we drove past.
The crossing to Dover went smoothly and before we knew it, we were driving off of the ferry and the real roadtrip could begin.
Every day we would receive five challenges with the 'sheep challenge' as a common thread. I won't be naming every challenge, but it comes down to this: There is a 'Splash of the day' (for instance: take a picture of your team being in the water of Loch Ness). There is a 'Prank of the day' (although these sometimes were a bit too risky). There is a 'Riddle of the day', which had some brain teasers in them, but were solvable most of the times.  And then you had the 'Pitstop of the day', where you had a viewing point which was easily to reach if you followed the given stage sheet.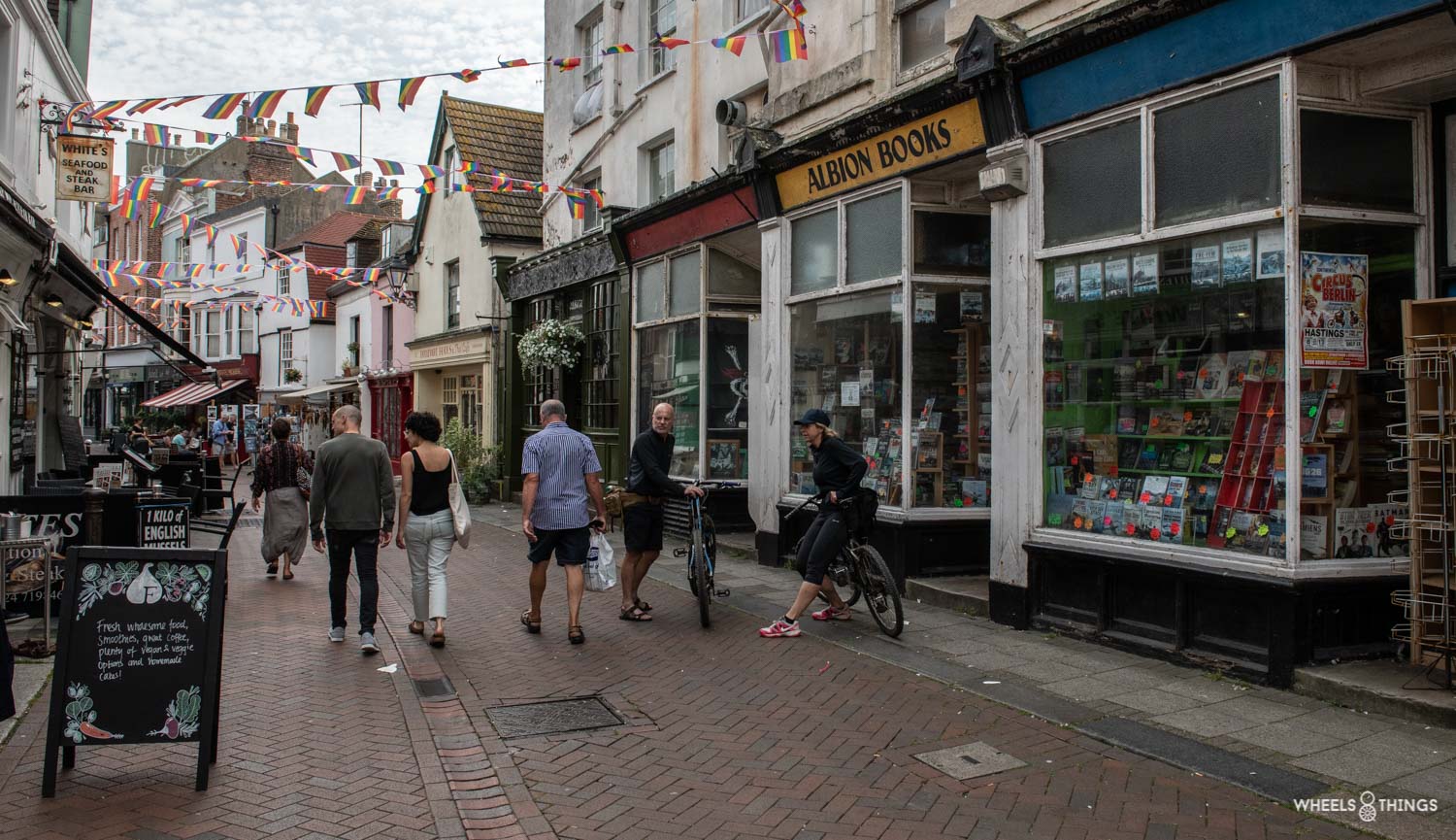 The drive of today counted 309km and the first stop was Hastings: a cozy village that looked a bit old and not very alive, but yet revealed a lot of charm. We found a nice little coffee place and were able to enjoy a nice piece of cake.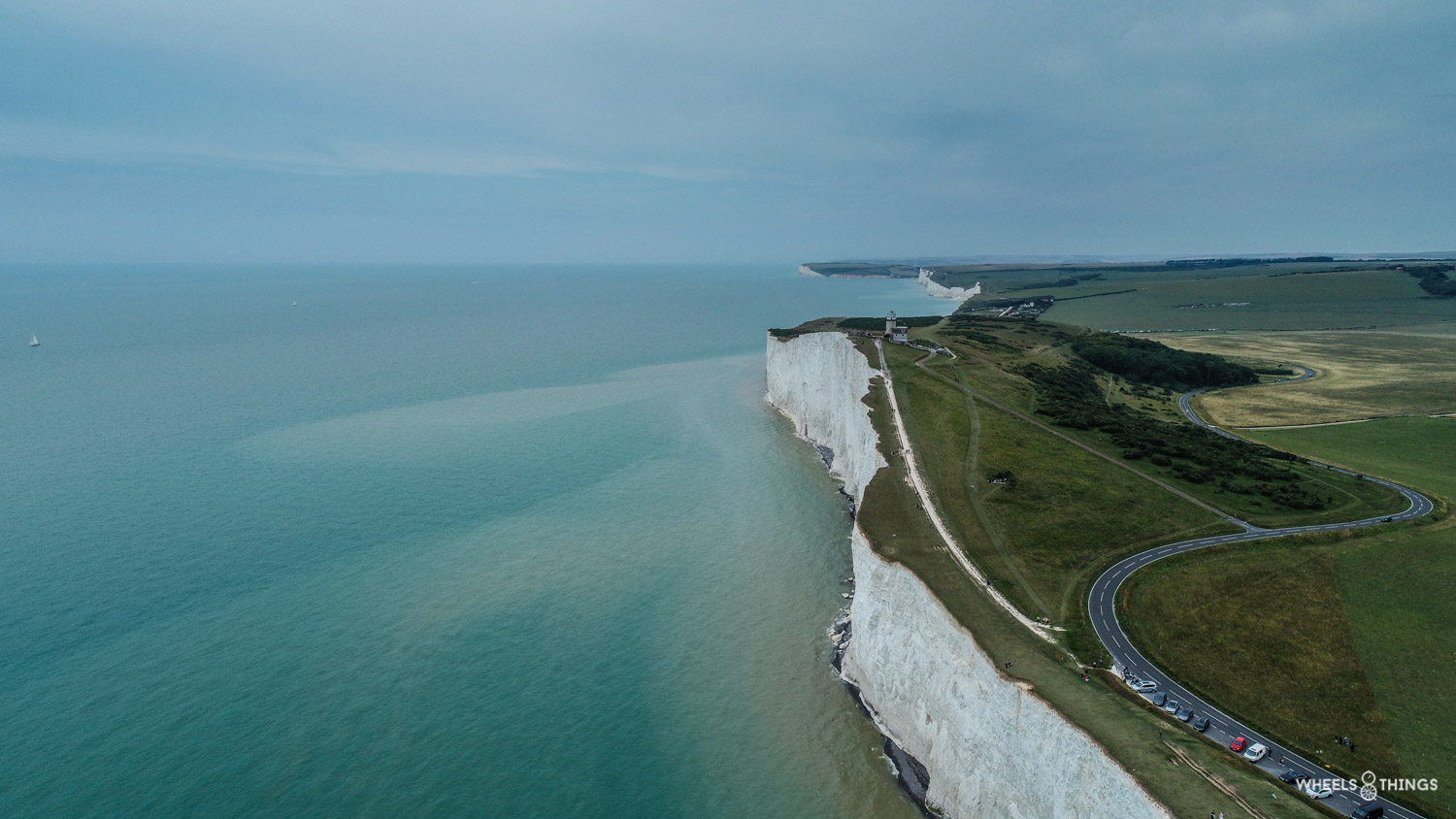 The next stop brought us to Beachy Head, where we had a magnificent view on the Seven Sister Cliffs. This was a more than worthy visit (which I will repeat a few times in the following blog). Here we had our first drone flight during the Scotland Rally. It gives an extra dimension on certain pictures, which you otherwise wouldn't be able to create.
The drive went on along the Brighton Pier. Here we tried hopelessly to place our car somewhere, but without any luck. We drove out of town and stopped a bit further to have some lunch.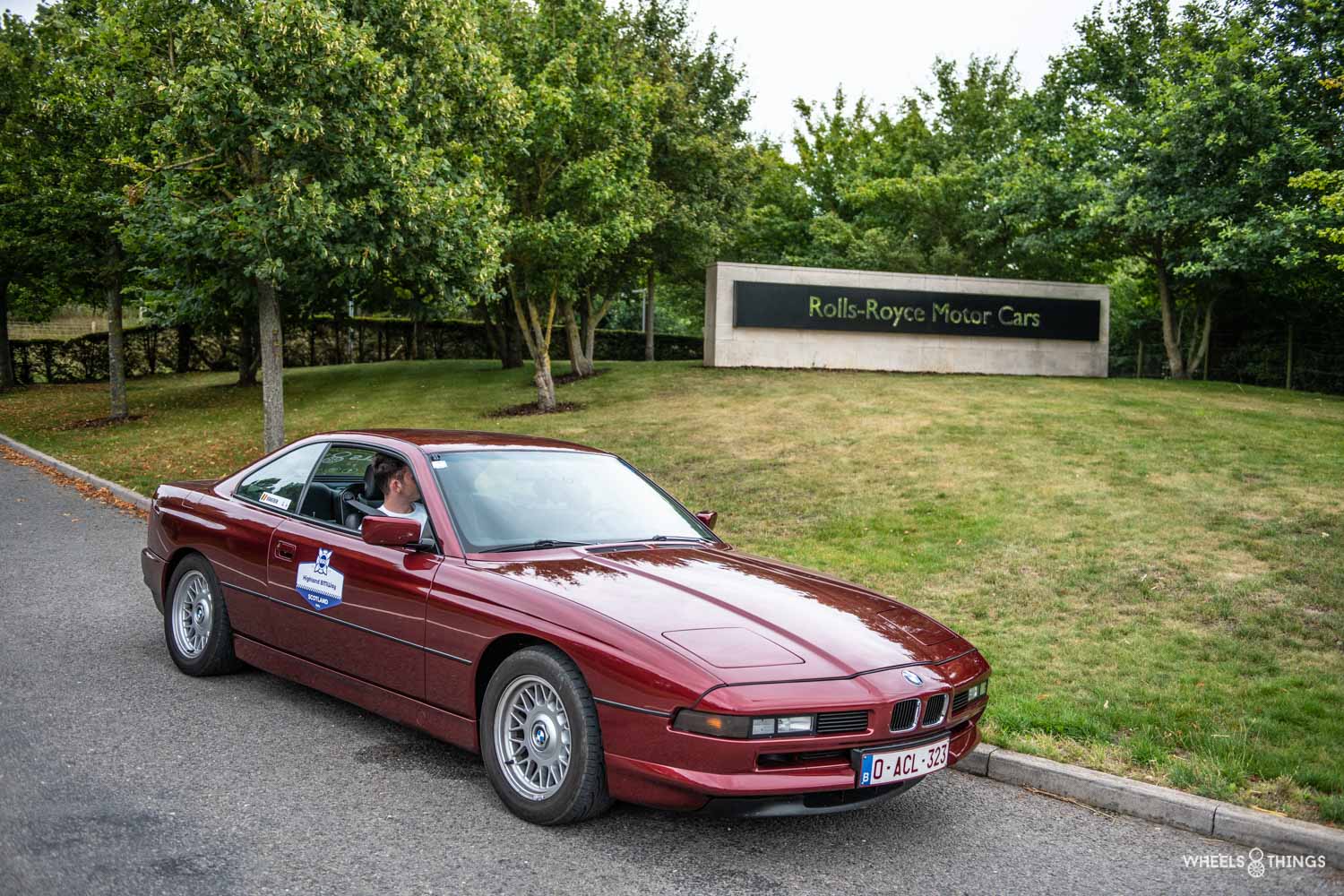 For the next stop we decided to keep it a short visit. It contained the Goodwood Factory of Rolls-Royce. We visited Goodwood in the past already multiple times to see the Festival of Speed, as well as the Revival. By clicking on this link, you can check out our report on the FOS of 2018.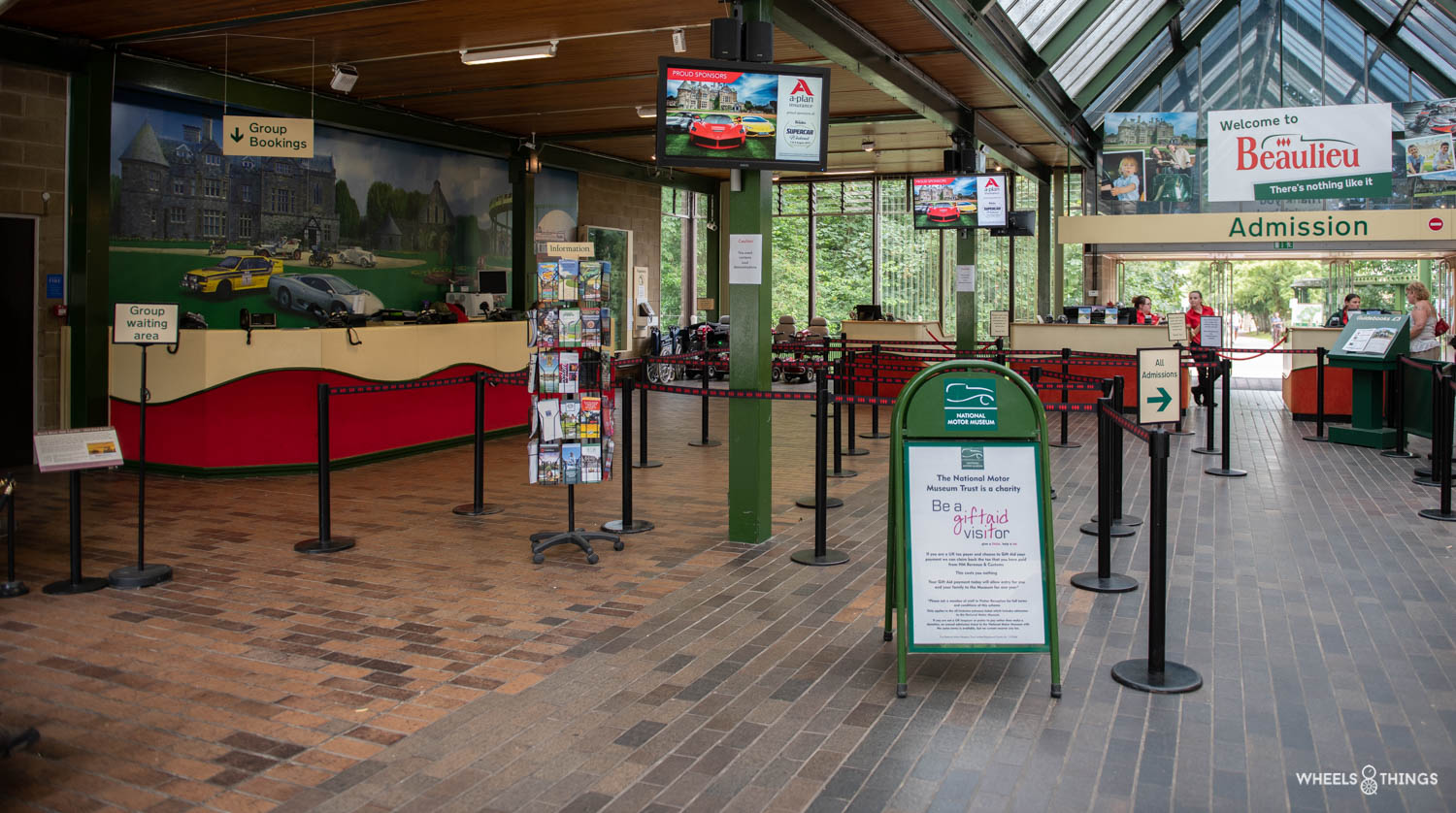 From Goodwood we started driving to Beaulieu fort he National Motor Museum. Located in a nature reserve it seems a bit odd to come across some absolute masterpieces of racing. Also a collection of James Bond cars can be found here. Sadly, due to too little time, we could not visit the museum. Next time probably?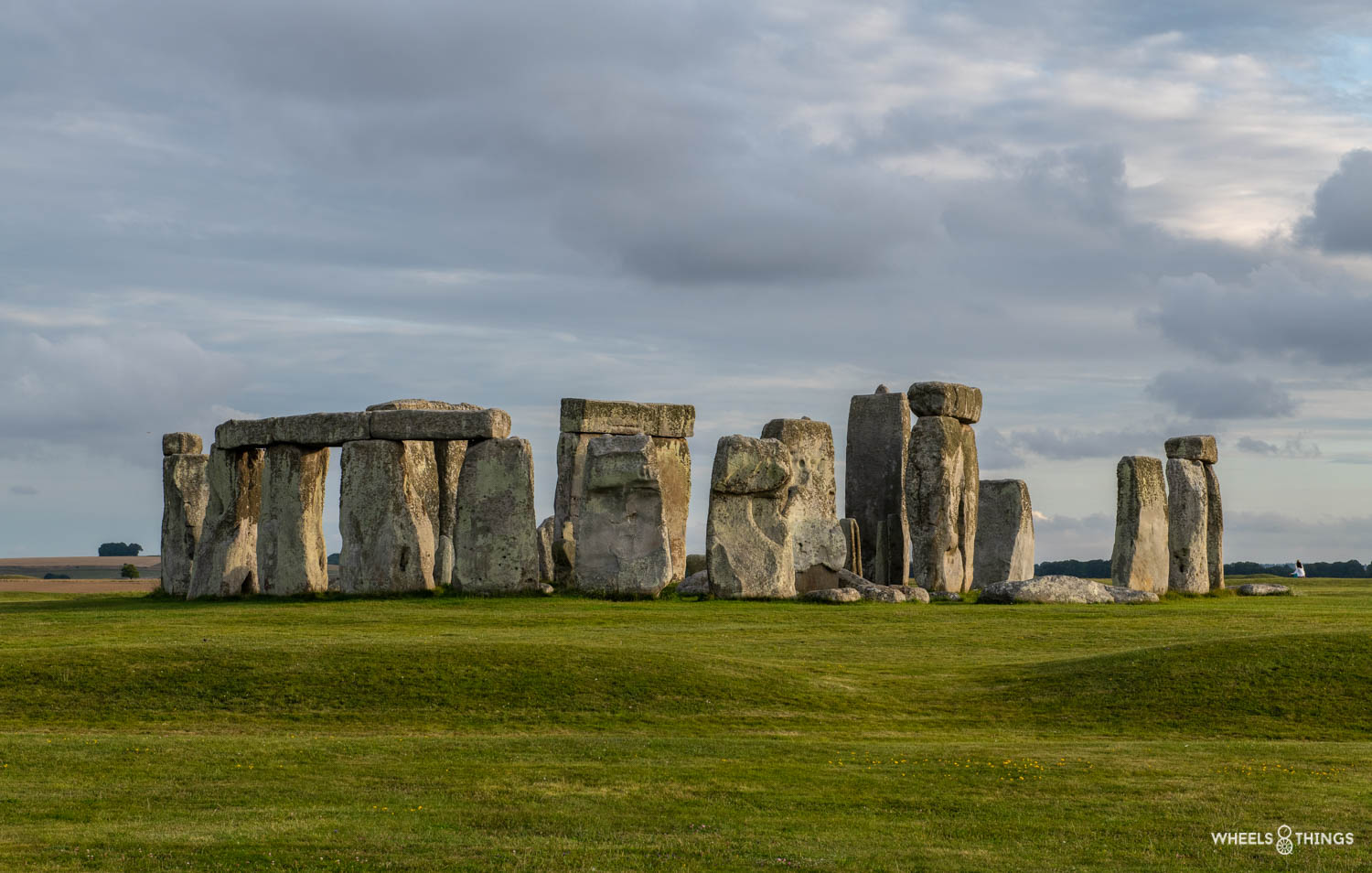 The last part of the daily stage guided us towards Stonehenge, where we stopped to make some pictures. Stonehenge is certainly worth a visit. The evening lights created a very beautiful setting.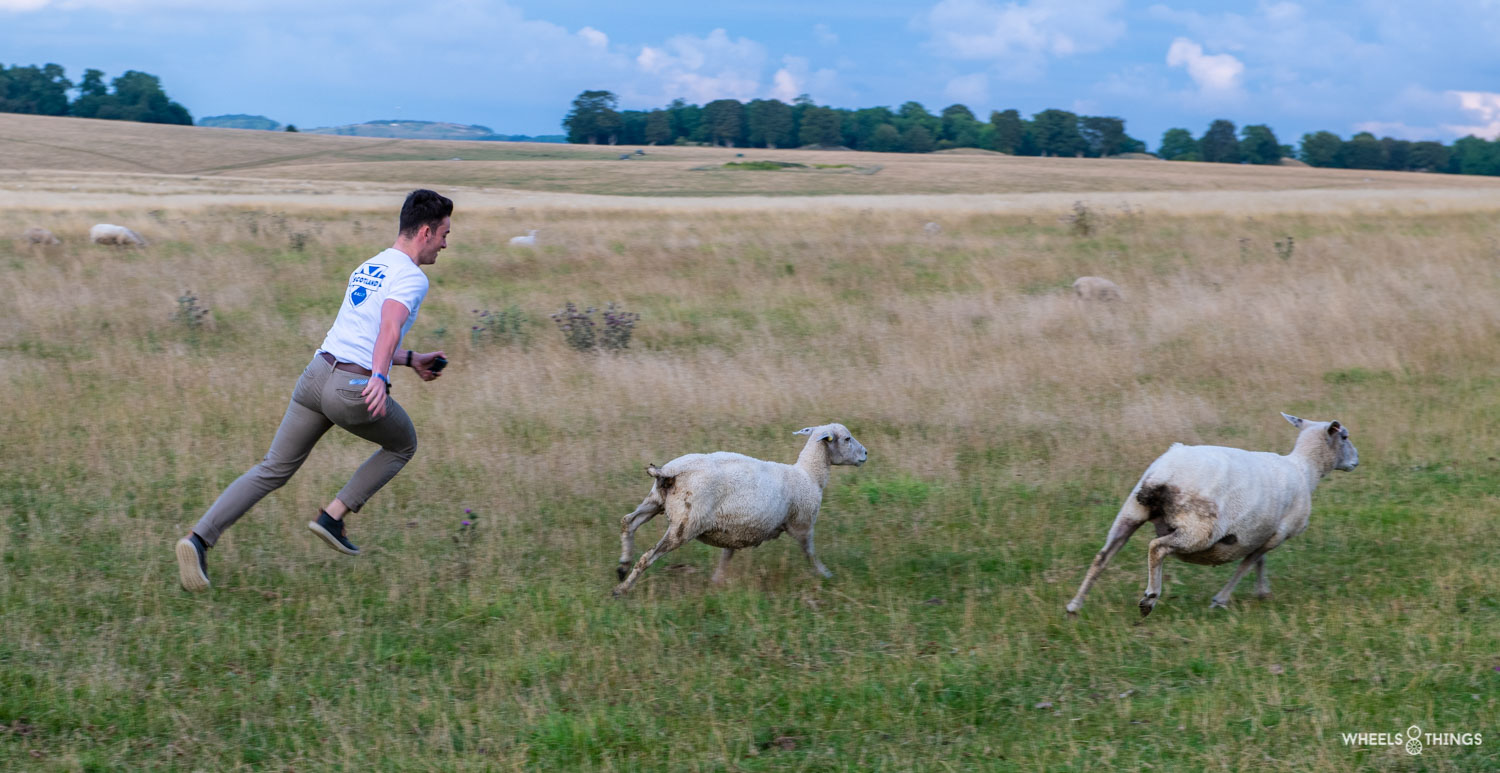 Loïc also tried to tag a sheep here, for the sheep challenge, but apparently they are as fast as lightning. Eventually he managed to do it, but sadly we had no picture to prove it.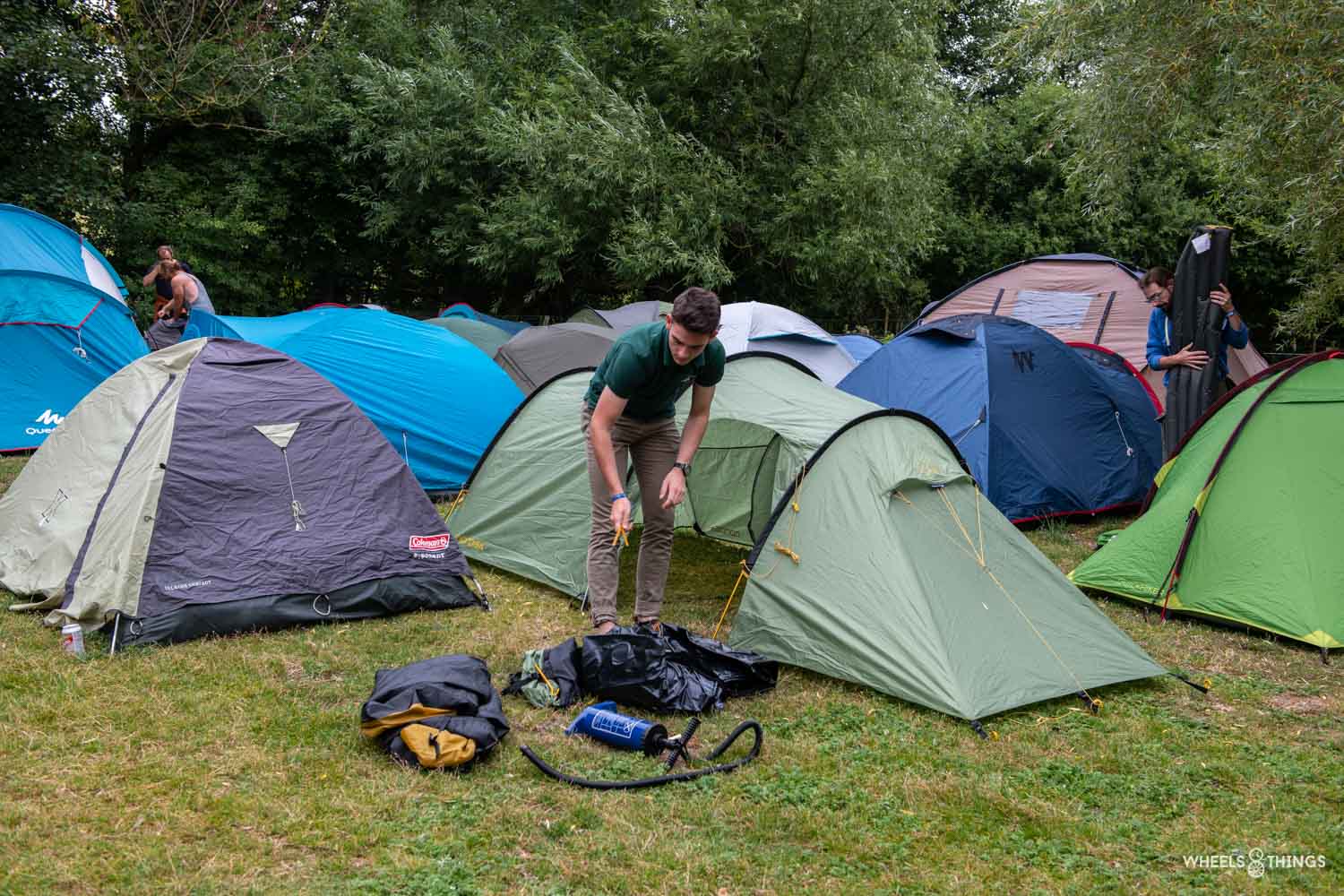 On the first campsite, we put up our tents, blew up our mattresses and joined in the cue for the first dinner: Barbecue. This also was the first moment that there was more time to catch up with our fellow participants. The majority of the group were very young people, who participated for the adventure, the driving and the nightly atmospheres. A lot of groups consisted of a bunch of friends who bought a car together, decorated it and went completely crazy for the challenges every day. Every night there was an announcement of the top 3 in the ranking, and therefore also an announcement of the daily winner (which sometimes was not defined by ranking). The top 3 were rewarded with medals and the day winner in Stonehenge received a nice bottle of Whisky. After a few laughs and a few drinks, it became time to go search our tent and go to sleep. In our case, another big adventure, since we never went camping before.

View our video of the day here!
Already curious if we came out fresh and ready for the second stage? Check out this blog real soon for further updates of our adventure!
You can find Part 2 HERE
Report: Patrick Verheeken
Photo's: Patrick & Loïc Verheeken
Film: Loïc Verheeken
Translation by: Rani de Koker (thanks Rani!!)