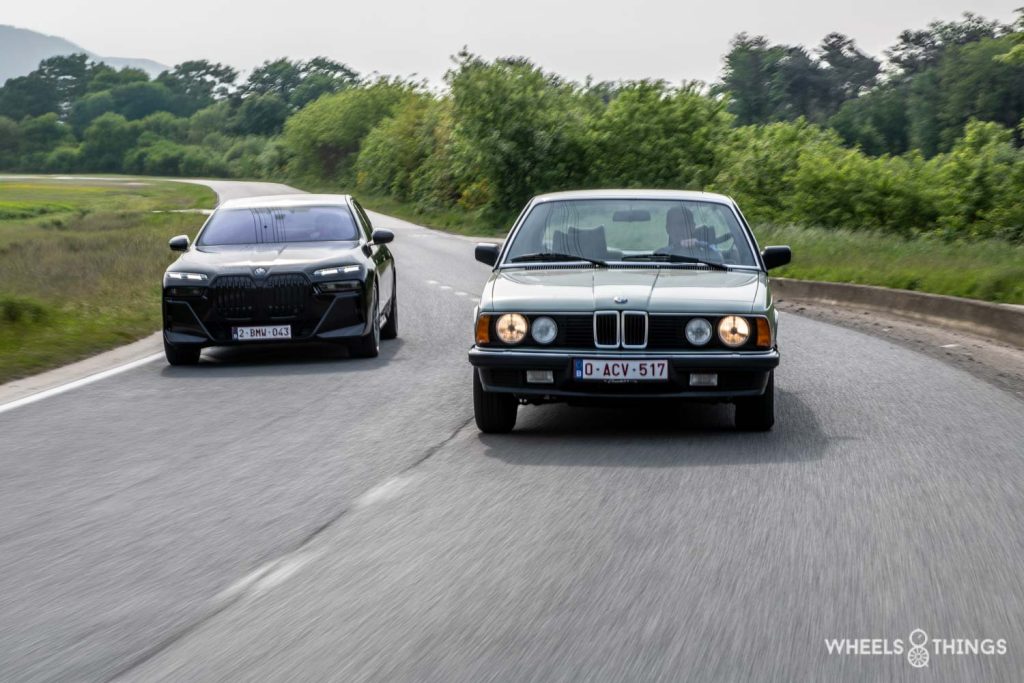 In our series old versus new, we are up to our second special. This time, we put the first BMW 7 series (E23) on the road along with the latest BMW i7 (G70). Two surprising cars.
Exclusive, then and now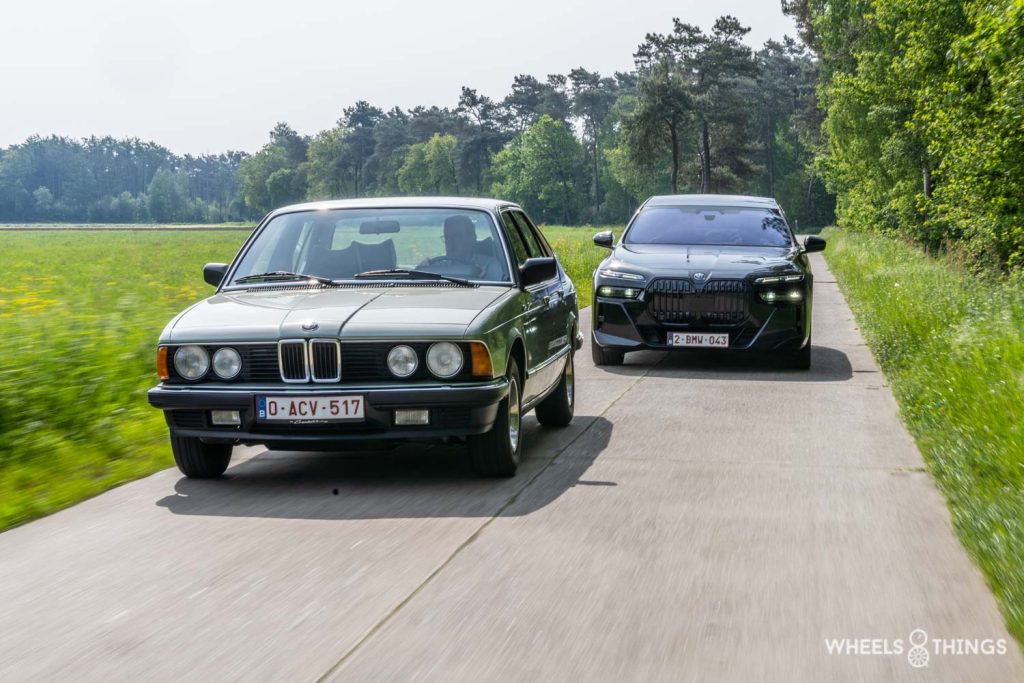 In our comparisons, we have resolved to cover only exclusive models. Not that we have anything against an ordinary car lol. We want to let you dream with us and give you an insight into the motivation of the customers who buy these cars. If possible, we always try to put the first model in the series next to the latest model. We look at what makes the car special then and now. We leave most of the info on performance and other technical aspects to other car magazines.
Performance-oriented or rather luxury
There are a lot of premium brands in the automotive landscape. So does every car a premium brand produces really meet that highest standard? They usually claim they do but let's face it, a Mercedes A series may be good but you really shouldn't compare it to an S class. Brands like Mercedes, Audi, BMW, Jaguar etc all have numerous ranges but in their top models, they mostly pursue luxury. Other premium brands like Porsche, McLaren or Aston Martin put their focus more on the sporty.
BMW E23, the first 7 series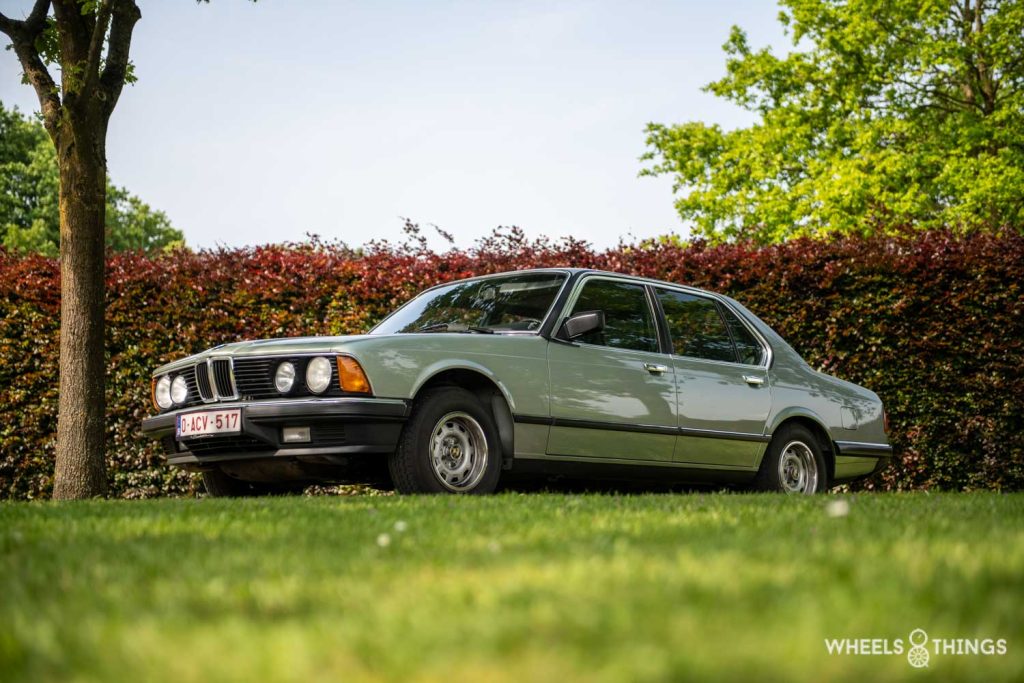 We had the chance to photograph Luc's BMW 732i. Luc is a BMW enthusiast at heart. His daily car is a 330e but he mainly indulges in his 2002tii or this 732i, which is still in completely original condition.
The E23 was actually the first BMW to take on the then all-powerful Mercedes S-Class.
Why a 732i?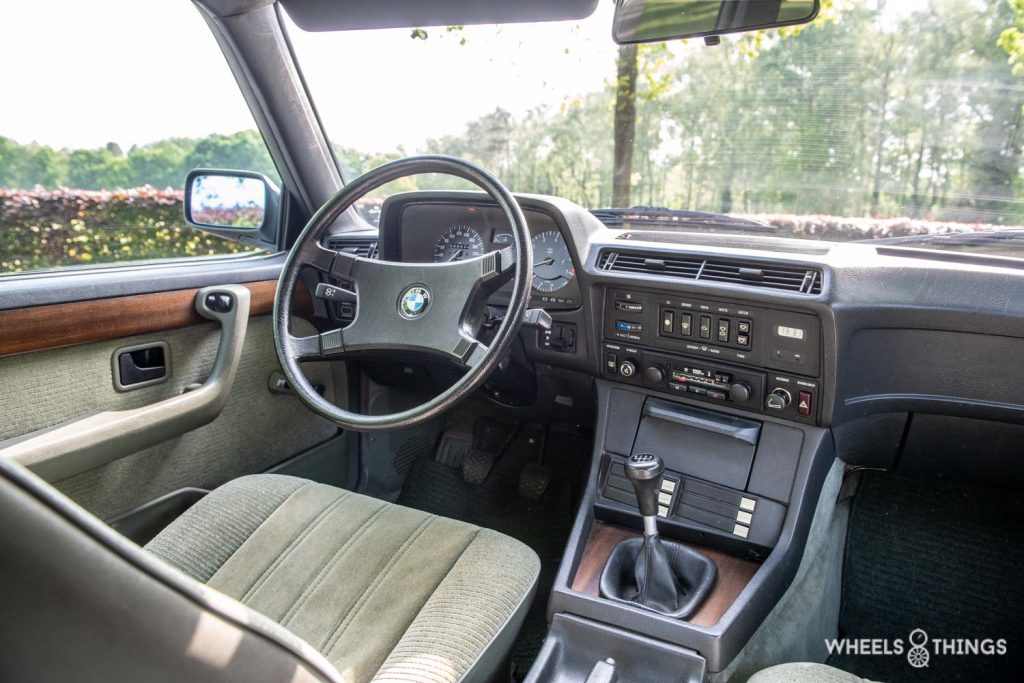 Pure nostalgia, the BMW virus was passed on to him by Luc's father. Luc's father once drove a BMW 2500 and then a 728 with cloth interior. So Luc went looking for that too. By the way, Luc's 732i has a very nice colour combination. The slightly darker green velour interior matches the light green paint perfectly. The conscious decision to leave the car on steel rims also has to do with the past.
The E23 in detail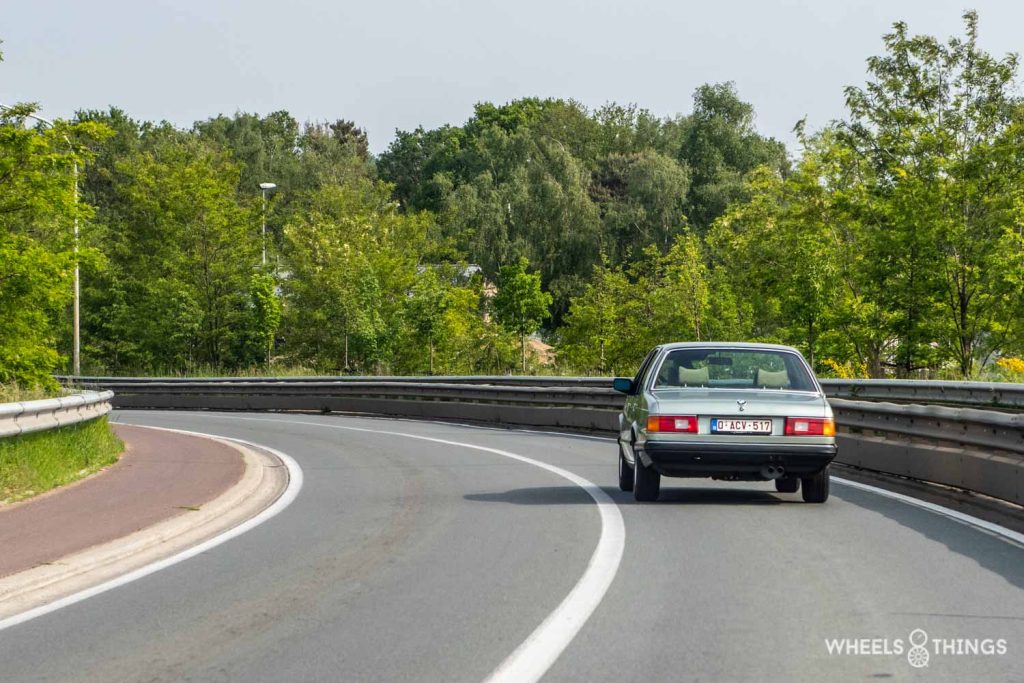 The first BMW 7 series better known as E23 came from the hand of Paul Bracq, who also designed the BMW E12 5 series, the E21 3 series and the E24 6 series. This E23 was a whopping 16 cm longer than the E3 it was meant to replace. As the length of the car increased, the wheelbase could also become longer and the track width also grew. This made the 7 Series quite a large car for the time.
At launch, there was a choice of the 728 and the 730 both with carburettor and the 733i with injection. Other motorisations followed later, such as a 725 but also a 745i. The latter came with a 3.2 and a 3.4 litre with turbo and produced 252hp.
On-board computer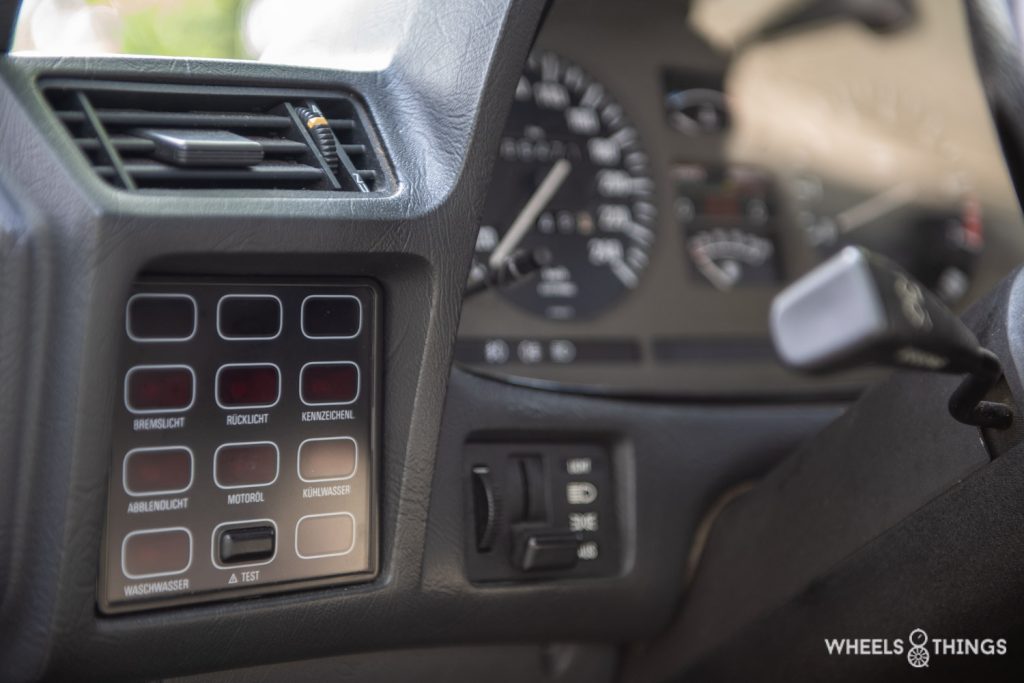 As befits a premium model, the new 7 series was also equipped with numerous novelties. This is where BMW's on-board computer made its debut. Numerous LEDs informed the driver of any issues that required attention. These ranged from faulty lights to an empty spray water reservoir. Not rocketsience but quite advanced at the time. The service indicator also made its appearance in the 7 series.
Safety and its importance began to gain more prominence in the late 1970s. Thus, you could order the 7 series with the then optional ABS. From 1985, the airbag made its appearance, now ABS and airbags are standard on every car you can buy. At the time of introduction, however, these were rather expensive options.
Driving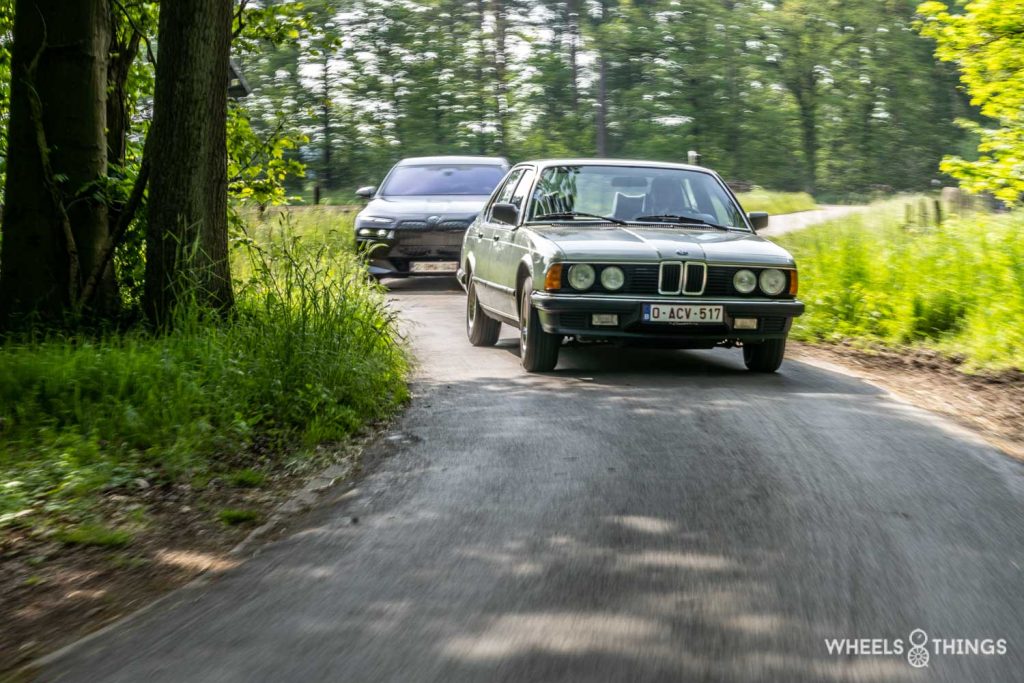 That BMW has a sporty dna we probably don't need to explain. But what happens when a brand with sporty roots starts building a luxury sedan? Well that is something that in the case of the E23 can be described as a successful marriage. The car turned out to be perfect for the doctor, notary, lawyer or ceo who needed a car with prestige. But in which the occasional itch to press the right pedal a little deeper was also there. The E23 has surprisingly snappy handling for a car that size. The large steering wheel gives a good feel and provides the necessary precision.
Luc also deliberately looked for a manual, in this case a five-speed gearbox. The car was also often sold with an automatic transmission and the four-speed automatic is still somewhat manageable but the three-speed found in the first years of production is really old-fashioned slow.
We are therefore sure that the introduction of the 7 Series in 1977 caused a lot of good family men to trade in their old-fashioned Mercedes S-Class for this sportier alternative.
Until today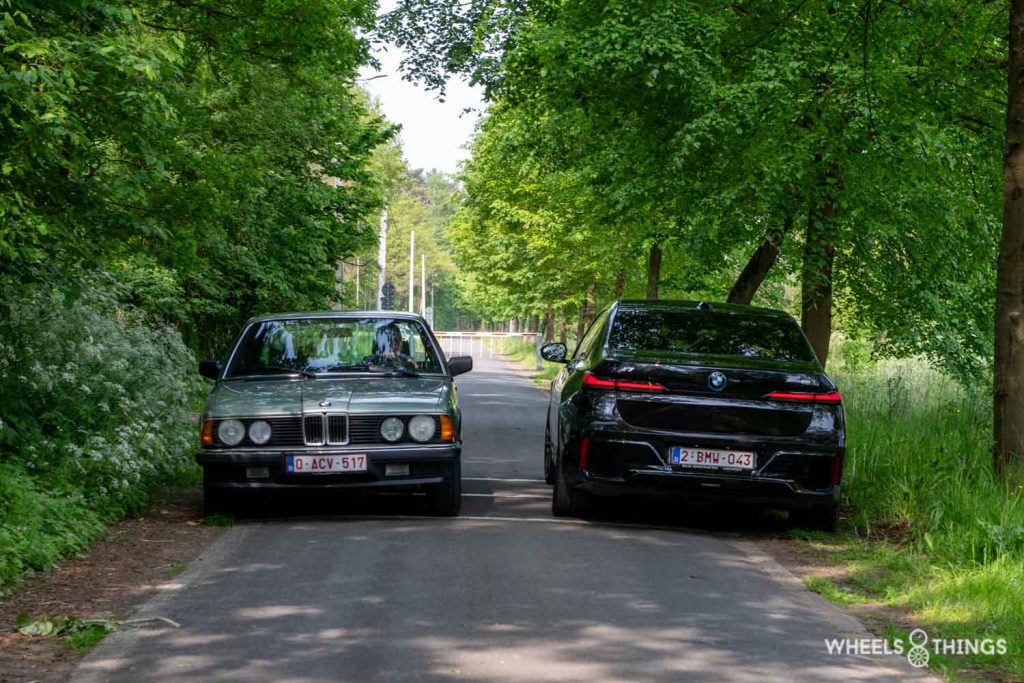 From the introduction of the first 7 series in 1977 to the introduction of the last 7 series in 2022, this was the common thread of the 7 series. Top comfort was with Mercedes and if you were looking for more sportiness you chose BMW. Not that the previous series didn't offer comfort and luxury but Mercedes usually went that extra mile until now!
BMW G70, internal combustion engine or fully electric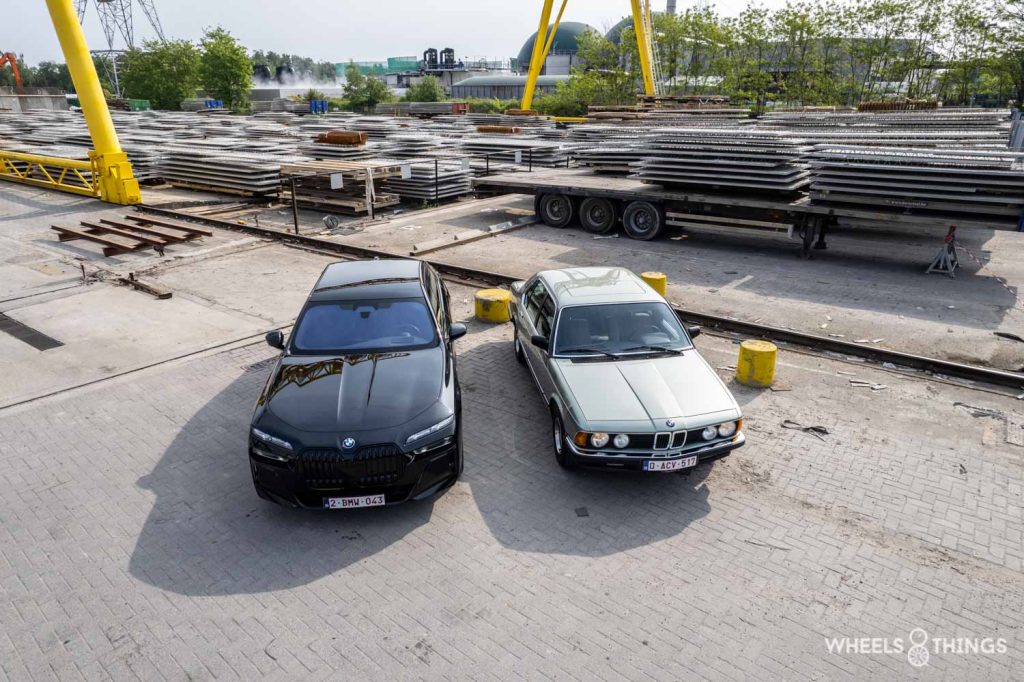 45 years is between the two models you see above. The only thing that has remained is the number 7 on the boot lid. Other than that, these are two completely different worlds. Step in for a moment and find out why this might be the first 7 series that many a car magazine writes has passed Mercedes in terms of luxury and comfort. So is it all glory and gloom? No because as with every car, there are downsides, even if it took a while to find them.
BMW i7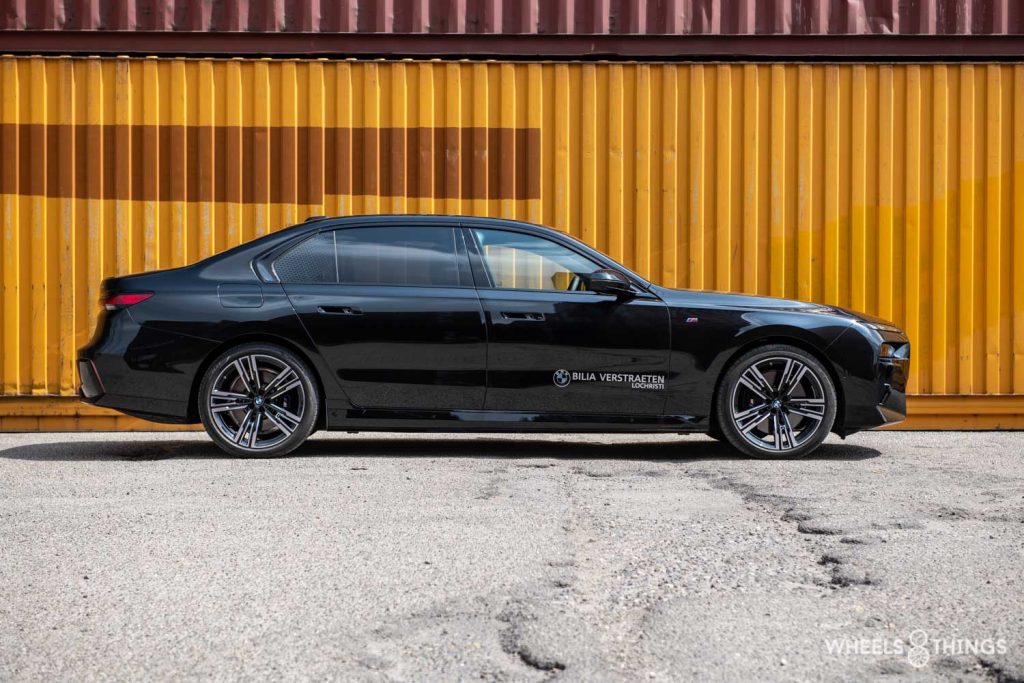 Since I do like contrasts, I tried to make the difference between our first-generation 7 Series and the current 7 Series as big as possible. Besides, everyone is talking about electric driving so we wanted to experience this for ourselves. Now, the i7 is far from the first electric car I have driven, going from a Tesla to a Polestar, various BMWs and a few more. But however you turn it, the BMW i7 really is different cake.
Zen from the first mile
We won't go into too much detail in this report; a full report on the i7 will follow later for that. But what I can give you is the zen feeling that overwhelms you as soon as you get into this car. That feeling may have nothing to do with the electric drive of our test specimen. The equipment of the 7 Series is nothing short of sumptuous. Every detail has been paid attention to, let's start with the seats. Apart from the fact that they are infinitely adjustable, you really get the feeling of being at home in your most luxurious seat.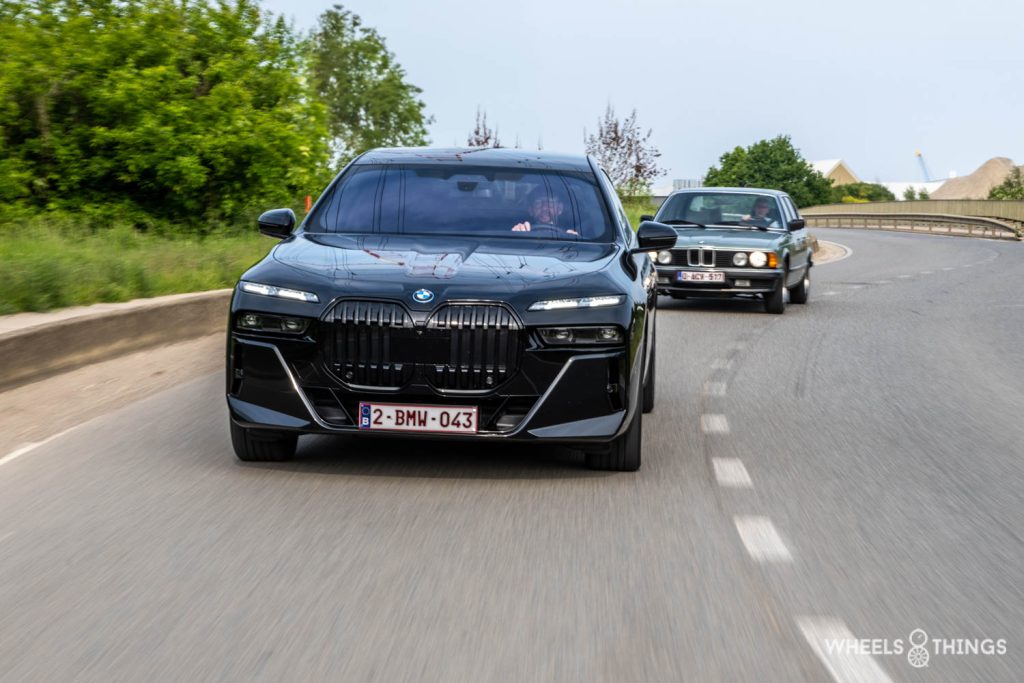 The perhaps abundant sound insulation lets you enjoy a silence we have rarely experienced in a car. Perhaps we could surpass it if we could get our hands on a Bentley or a Rolls-Royce one day. The adaptive air suspension expertly filters out any road unevenness. This filtering is not just to do with the air suspension. The i7 features a system that uses artificial intelligence and is linked to sensors and a front camera. Road unevenness is analysed 33 times per second and the system will make adjustments via various parameters to keep the compromise between comfort and efficiency optimal.
Four-wheel steering
As soon as you sit down at the wheel and take your first corner, a slightly unnatural feeling briefly overwhelms you. This is because the 7 Series steers with all four of its wheels, which feels strange and unnatural for a moment. Fortunately, you soon get used to it and you are able to steer this mastodon surprisingly accurately.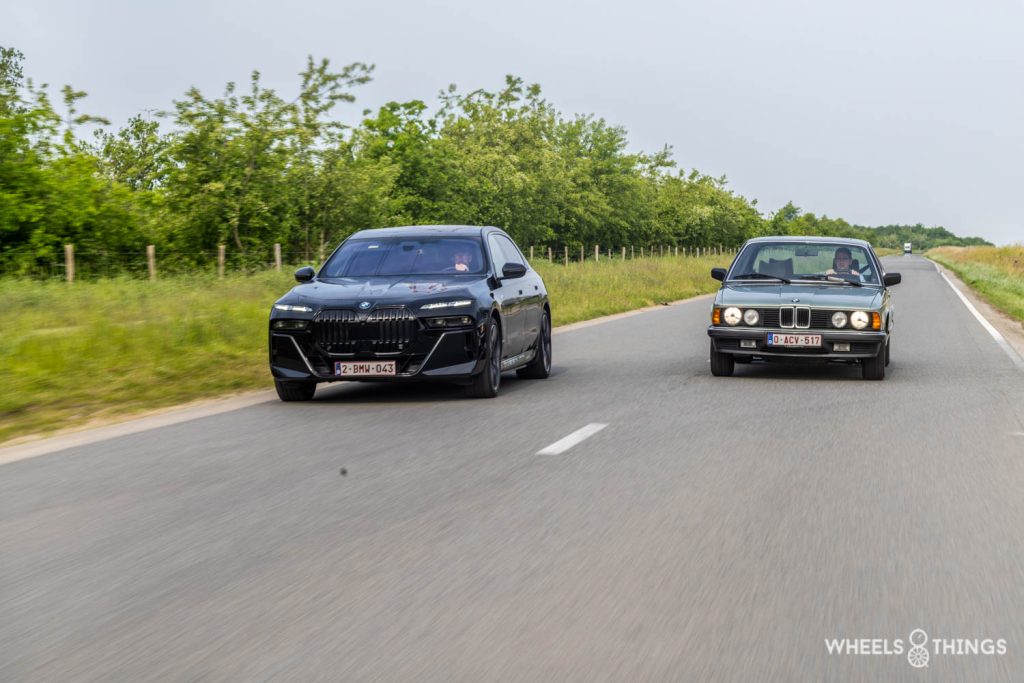 It is these and many other things that create a huge distance between this new 7 series and Luc's first 7 series. That was a 'normal' luxury car for the slightly better off car enthusiast. The feeling you had with these cars connected you to 'driving' much more than now. There are so many aids on them now that you do miss the feeling you had with a car from 30 or more years ago.
Sizes, weights and more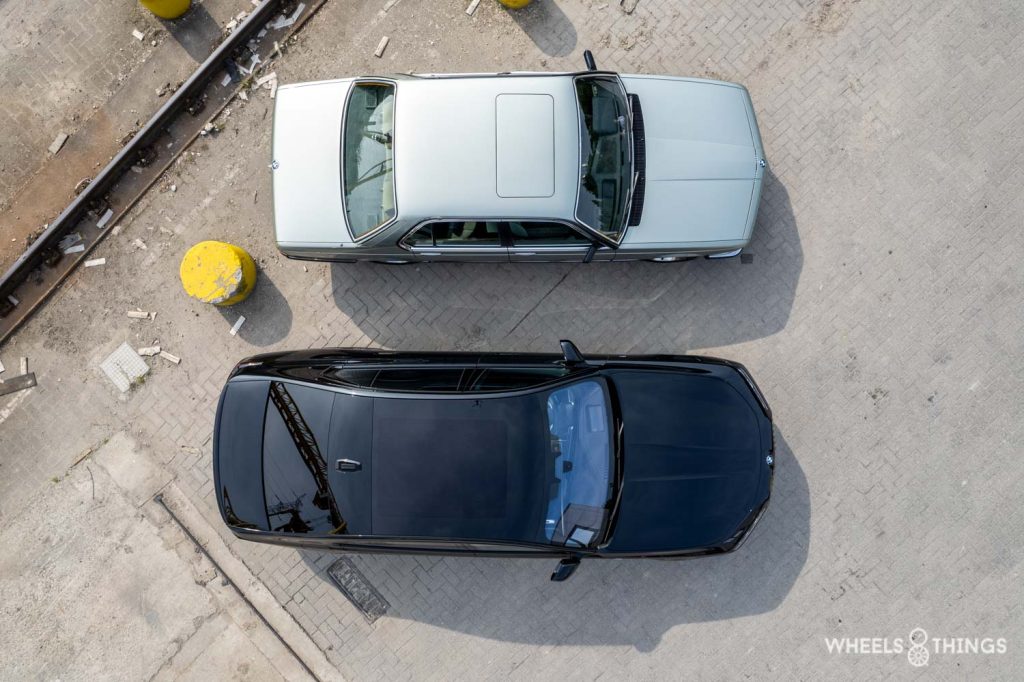 At 4.86 metres long and weighing 1470 kg, the BMW 7 series was one of the larger cars of the time in 1977. Of course, we leave out the American battleships. The current i7 measures a whopping 5.4 metres long and puts a staggering 2615 kg on the scale. The picture above clearly shows the difference. The height also differs by a whopping 11 cm. About the power outputs, I am going to be brief. The first 7 series had numerous motorisations with outputs ranging from 150 to 286 hp. The i7 has 544 hp thanks to two electric motors. They write a driving range of 625 km…. We did over 450 km on one charge, which seems more than decent. Ah yes, a sprint from 0 to 100 takes just 4.7 seconds.
Drivability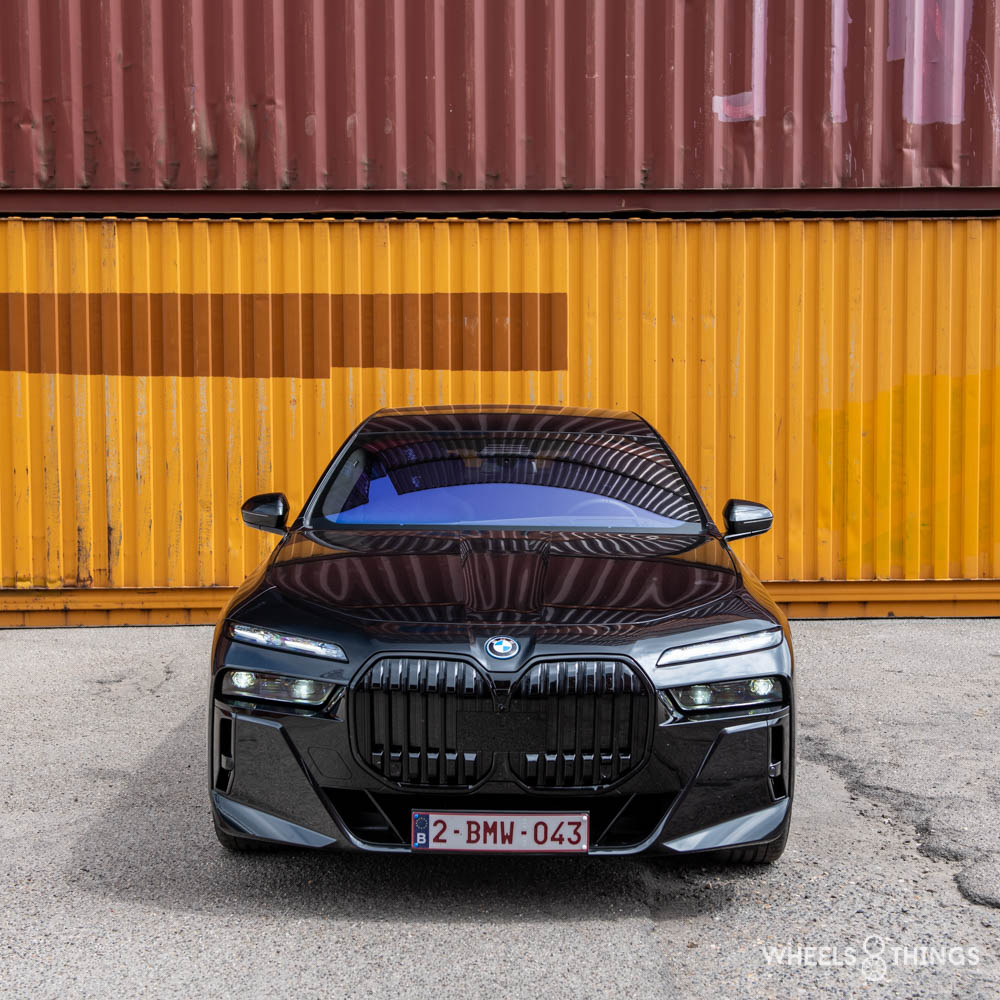 The BMW i7 is a big and very heavy car, there is no point denying it. However, once you are settled in the blissfully seated driver's seat and out on the road, you don't notice a thing. Ok, you don't park the i7 where you can put a Fiat 500. And narrow streets in historic cities might also be best crossed off your to-do list, but otherwise you are so spoilt in this car that I think you will sometimes regret arriving at your destination already.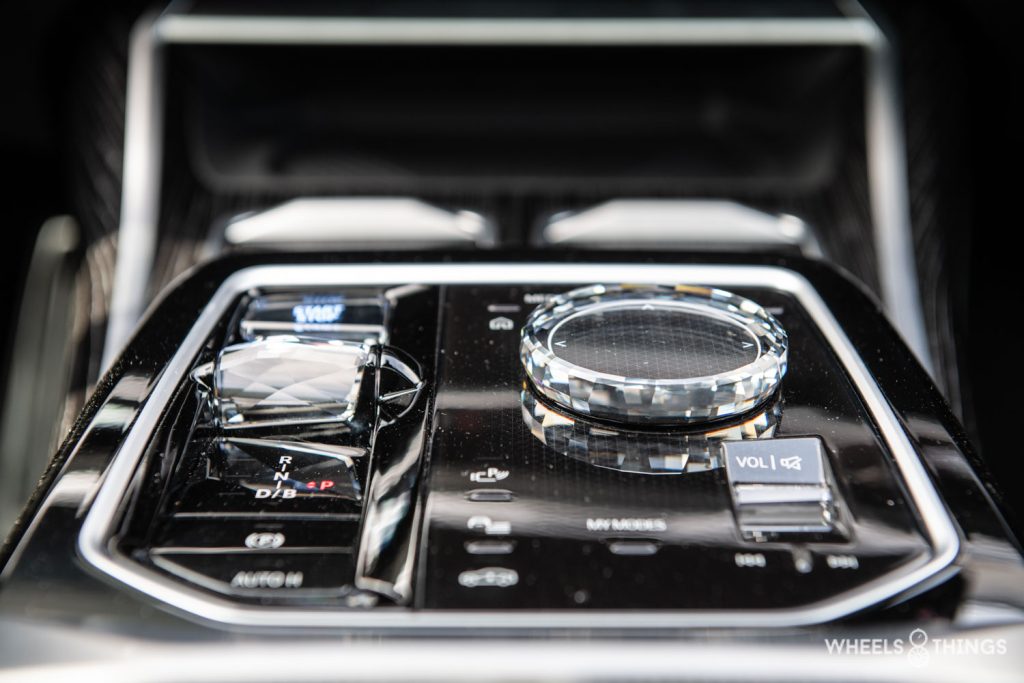 I mentioned the four-wheel steering earlier but what also really struck me was the intelligence of the adaptive cruise control that even when it was off, it still took on certain tasks.
You can configure the i7 so that when you let off the throttle, you felt like the car was going into a kind of freewheel. So not that forced attempt to recharge the battery causing the car to brake unnaturally. Even when releasing the throttle and approaching a vehicle ahead, the i7 would very subtly slow down to even a complete stop. Truly blissful!
The 7 series never aimed to be a course car. However both Luc's first 7 series as well as this i7 can be quite snappy.
Brief comparison
Conclusion
First of all, I would like to thank Luc H, Ivo C and BMW garage Bilia Verstraeten from Lochristi for their cooperation in this comparison. We enjoyed it and we can conclude that both cars were really special in their era. The BMW 7 series E23 still is after more than 40 years. For the i7, I fear a little whether we will still be talking about it in 40 years. However, that applies to most contemporary cars I think. The plethora of electronics and batteries may provide us with a lot of comfort today but the shelf life has unfortunately become much shorter as a result.