There are those brands that have a certain haze around them, Bugatti is undoubtedly one of them!
So when Autoworld puts on a Bugatti exhibition, we really had no choice but to visit it.
This is a 'small' exhibition but that doesn't make it any less interesting.
Once you enter, you will find about 15 Bugattis on the left, all unique cars. Almost all of them are cars that have rarely or never been exhibited before.
By the way, there are also a number of 'one' off cars among them, the most recent one making headlines some time ago as one of the most expensive newly produced cars. We are talking about the concept car "La Voiture Noir". This car is based on Jean Bugatti's black Type 57SC Atlantic.
That racing is in the Bugatti DNA is also shown during this expo. As many as four racing cars from a Swiss collection can be admired here.
Bugatti Type 36
The Type 36 you see above was a prototype project. Only 3 of them were built, initially as single-seaters and without rear suspension! They were intended for the Montlhéry Circuit in France. The cars were constantly being improved and as a result got different bodies and suspensions. The 8-cylinder with just 1100cc was also given a compressor, making it probably the first compressor engine Bugatti built. The example on display here is the only surviving Type 36.
Bugatti Type 35B
The Type 35B shown above owes its striking colour combination to its first owner. That, in fact, was a Swiss racer. The Type 35 was a race car pure and simple, designed accordingly. With more than 1,000 races won, the Type 35 was one of the most successful racing Bugattis ever. The car above is the very last chassis and features the engine of a Type 51. Hence the Type 35B variant of which only 37 were built.
Bugatti Type 51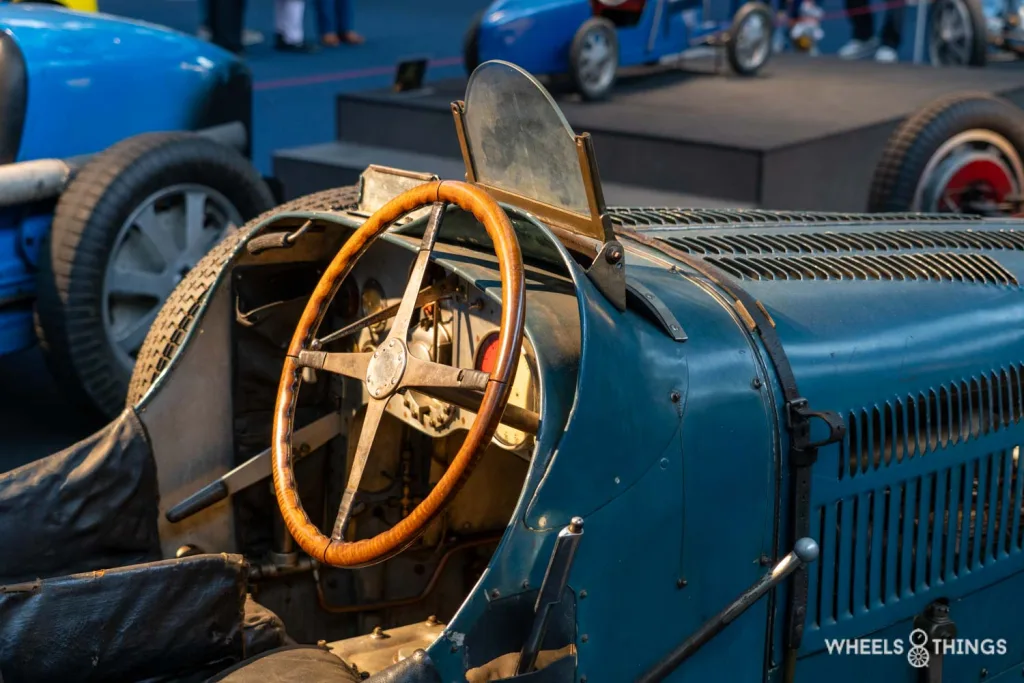 This Type 51 is also rather special, as it was initially a 35B factory car used extensively in racing. To compete, a 51 engine with double overhead camshaft was fitted. The main drivers who raced this 51 were Louis Chiron and Achille Varzi, and it appears to be one of the most successful racing Bugattis of all time. The car has never been restored.
Bugatti Type 43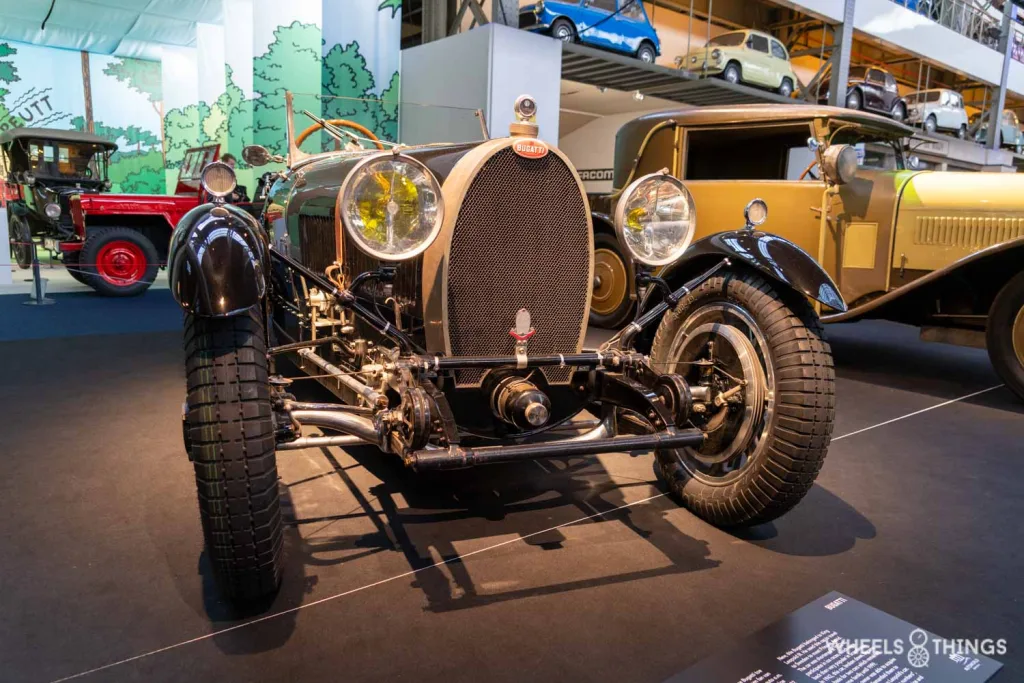 That exclusive brands have extra appeal with the more endowed population may not be surprising. For instance, the Type 43 above was once bought by King Leopold III. He even drove it to Sweden to meet the future Queen Astrid. In 1932, the chassis was shortened to compete with it on ice in Scandinavia. In 1942, it was used to build two other cars. Fortunately, those two stayed in the same family, when in 1999 the current owner took possession of the cars, he decided to rebuild the Type 43. So now we see this Type 43 back in full glory with matching numbers!
Bugatti 44 Coach
Apart from its many sports & racing cars, Bugatti also made quite a few more luxury saloon cars. For example, above we see the Bugatti 44 Coach. Back then, it was fairly normal to buy a chassis from e.g. Bugatti and, as in this case, have a coachwork built by D'Ieteren Frères. They built this very beautiful coachwork under a Weymann licence.
Bugatti Type 57C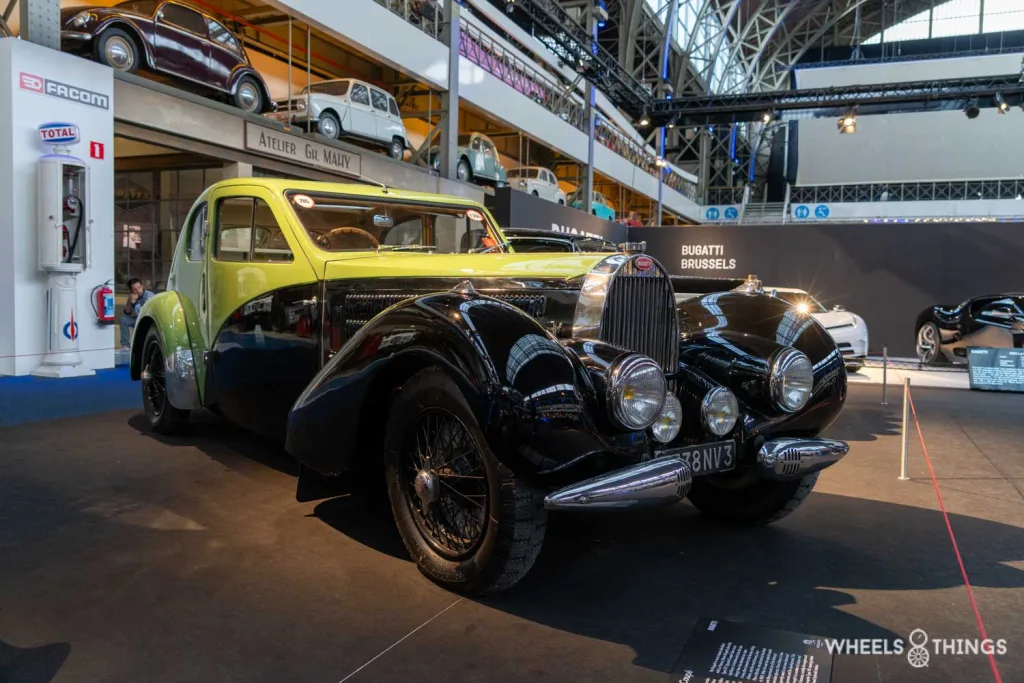 Of course, Bugatti also drew its own coachwork, and not by the least. So here we see a Type 57C Special Coupé. According to history, this would have been the last design by Ettore Bugatti's talented son Jean Bugatti. This car was also regularly loaned to factory pilots, the most important being Jean-Pierre Wimille.
Bugatti Type 49
Another gem is this Type 49, widely seen as the road variant of the Type 35. Almost all Bugattis were built in limited to very limited editions. For instance, barely 470 examples of the Type 49 were assembled by hand. Six of these had the short chassis and the only remaining example is shown off here.
Bugatti Type 23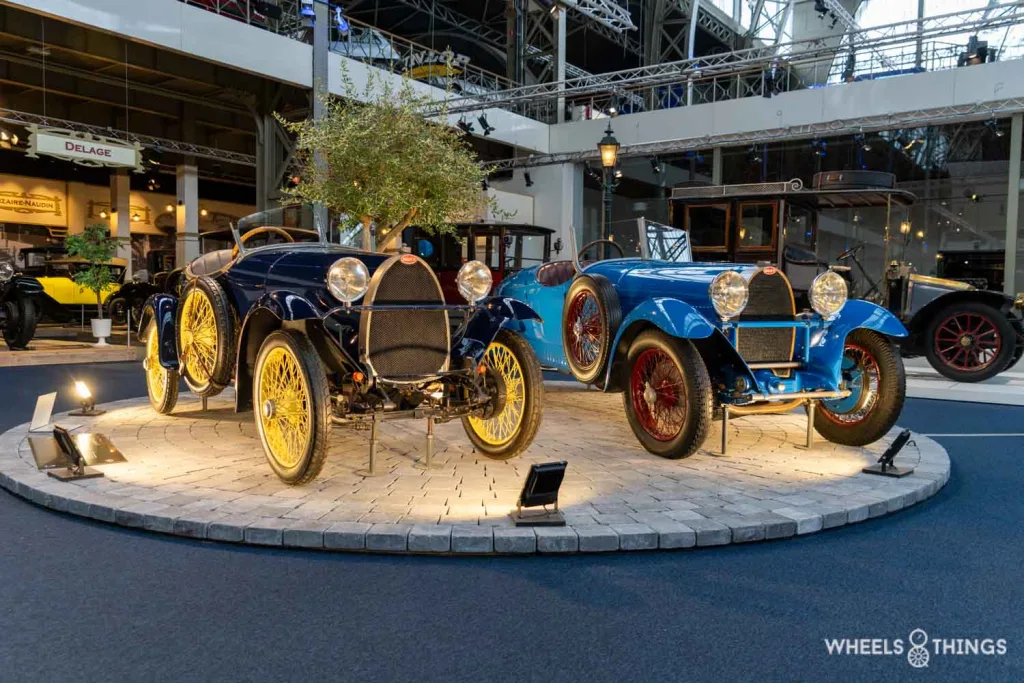 In 1921, Bugatti managed to confirm its reputation in racing with the Type 13 by taking the first four places in the Grand Prix des Voiturettes. The race took place in Brescia, Italy, and from then on the Type 13 was best known by the name Brescia. Building on that success, the name was later used sporadically for the later Type 22 & 23 as we see here.
At almost every expo organised by Autoworld, some cabinets are provided with usually very special miniatures. We sometimes give them too little attention because even here there are sometimes very nice specimens among them.
More info on the Autoworld website.
Discover Bugatti Unseen from 8 September to 5 November 2023 at Autoworld.